Bartow CJ, Cartersville, GA Day of Ministry 2019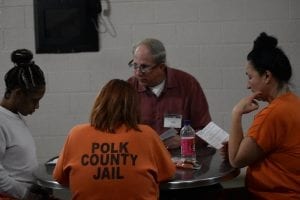 We need 50 men and women to go into this climate-controlled jail. There are 650 men and women in this jail. The staff has been very accommodating to us.
SPECIAL FORM: Click –> CHURCH.AA. FORM. Download and print it. Fill it out completely. Get it notarized.
The jail will need a copy of a Government issued photo ID and one other form of ID which can be as simple as your auto insurance card.
We will need all of this to get clearances.
Scan or photograph it where it can be read. Email it to Jim Harris at jimh@flyrightinc.org ASAP or hand deliver it to DeLayne Davis. We will ALSO need the original, bring it to the Friday Night Gathering.
DeLayne can be contacted by phone, text or voicemail at 404-447-0693.
The local team is putting on our Friday night meal that will include praise & worship along with training. If you would like to help the local team in this endeavor or have paperwork that we need please contact DeLayne. The hotel information is good. Call them and mention James Harris as the reference to get a decent deal.
If you would like to donate to any of our events please click here!
Gate Time: 8:00AM (Eastern)
Testing additional details setting.
Hotel Information