Founder, Fly Right Ministry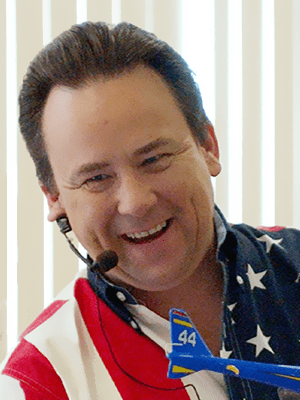 I was born with a rebellious nature. As early as I can remember there was always something for me to be mad about. One of the things I hated the most was authority - any type of authority. Who are you to tell me what I can do?  What gives you the right?  How dare you think that you can make me do this or that…?  From these early memories, my life became one of rebellion against everything that my family tried to teach me.
But then I became a teenager and discovered girls. I foolishly listened to the bad advice of others, which led to the downward spiral of my life. "Sex, Drugs, and Rock & Roll" became my theme. It all seemed like fun at the time, but those three things were leading me deeper into a pit, but you couldn't have told me that at the time.
My first arrest was in the 10th grade for possession of speed.  My parents were crushed. They longed to do whatever they could and even sent me to the first of five rehabs. None seemed to help.
The drug use escalated from weed and speed to the use of cocaine, heroin, and methamphetamines – even IV use.  The addiction became so powerful that at times I would load a syringe full of cocaine and heroin mixed together, called a "speedball". Then, right before injecting it, I would have a crack pipe loaded. I would do the shot, then "chase it" with a big hit off of the pipe.
It's no wonder that my rap sheet was five pages long. I was hooked and I didn't care. Rehab and psychiatric help couldn't help fill the hole in my soul. Finally, my last "go round" happened in my own home.  I overdosed on the routine described above, but thankfully 911 came to my rescue.
When they revived me, saving my life, they also found 9 grams of cocaine in my pocket.  Once at the jail I had some kind of seizure and ended up in the CCU. When I came to three days later I left the hospital against medical advice. I was on a search for more dope!  The law caught up with me and gave me a felony conviction.  I was on my way to the Texas Department of Corrections. Little did I know at the time, it would be a blessing in disguise.
Sitting in my cell, contemplating what was about to happen to me and wondering if I would even survive, gave me pause to ask the question, "Is there a God?" I was at the bottom of the pile, convicted of possession of a controlled substance, cocaine. The only thing that I knew for certain was that if I lived I was going to prison. You really can taste fear.
Little did I know though, many were praying for me. God answered those prayers through a man who came into Tarrant County Jail in Ft. Worth, TX named Roger. Roger was doing a "religious service" in the pod where I was housed. I had seen him there before and something about him drew me to him. He kept talking about how the Lord loved me and that He would forgive me if only I would accept Jesus as my Savior. Well, nothing else I had tried up to that point had worked, so I asked another inmate to pray with me when Roger asked us if we wanted to be "saved".
Something incredible happened at that moment. I will remember it forever. When I asked the Lord Jesus into my heart, admitting that I was a sinner and needed a Savior; it felt as if my entire body was encompassed in what can only be described as heat. It literally felt like my body was blushing from the bottom of my feet to the tip of my nose! In that moment, God delivered me from drug addiction. I became a new creation and He changed me. Since that day in jail, Christmas season 1995, I have never had a craving for a drug again.
Prison in Texas was no vacation, but God was with me for the time. It went by without any of my fears being realized and it turned into a period in my life that I look back on and see where the Lord used it to send me to school. Not school in the traditional sense, but every time a chaplain had a service, I was there.  He even used me to witness to a friend while I was incarcerated who later came to know Jesus. This friend wrote to me after I was out to tell me about it. That letter was used to "call" me into the ministry that is now growing in amazing ways.
OUR PRIMARY GOALS FOR THESE EVENTS ARE: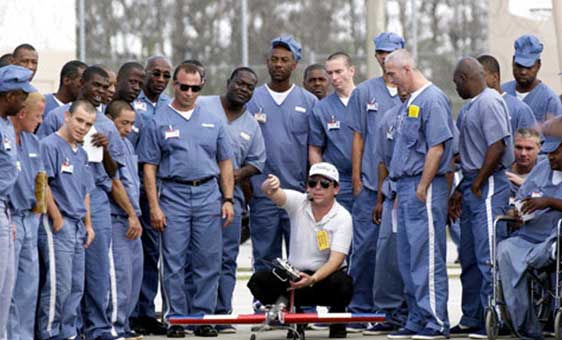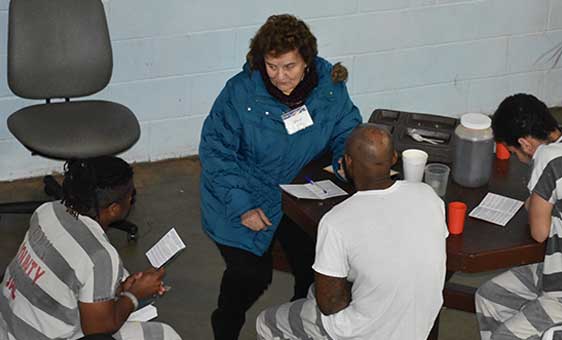 To see inmates come to know Jesus Christ
To reduce recidivism as an effect of changed behavior
To teach our staff of volunteers how to share their faith
To achieve the former goals in a secure and fiscally responsible manner
We are on a mission to make a change in our prisons and our country.
Do you want lend a helping hand?
When you know you've been changed on the inside, it makes you want to run out and tell the world! You really expect others to believe that you are a new man and that God has converted you. Unfortunately, that is not how things go. The reality is that you've been banished by your family, and your friends are not interested in being around you; you are just an ex-con who can't be trusted.  The devil will try his best at this point to steal your peace and turn you back to him.
What I did instead was:  I found new friends, stuck with my wife, Fredia, who had stuck with me while in prison, and got a job. I found my new friends in church, and I took the first job that was offered to me. It was a telemarketing job but God had given it to me so I did my work just like He was standing there listening…because, in reality, He was! After a little while, the work ethic stood out.  Before my parole ended a year later, I was promoted twice and was actually running several retail businesses for this corporation. My family took note and some of my old friends did also; God had begun the process of restoration.
My grandmother lived to see how God changed my life before she went home to be with the Lord.  After she passed and my parole ended, Fredia and I moved to Alabama where we currently live.  The Lord gave me a great job at a local car dealership where He gave me favor.  He then led me to another job where I did even better financially.  But during this time, He began a new ministry through me.  When that letter from my friend back in prison came in the mail, I knew in my heart that God was calling me into prison ministry.  He also had been giving me a vision for where to go in this ministry.
After consulting with my wife and praying for a while, I surrendered to the calling. The church we attended at that time helped me to start out as their emissary to the local county jail. We had no idea what our next step would be, but we knew God would walk with us!
After you step out in faith and follow the Lord's leading, the devil increases his feverish attacks against you. In my case, Satan tried to convince me that no one would ever trust me again. He wanted me to believe that I haven't changed after all and that I would continue to fail.
I decided it was time to ignore Satan and trust God. It was the dawning of a new millennium, right after the Y2K scare had come and gone, that I chose to follow those nudges from God and step out in faith. I had a good job and we had been blessed by the Lord in that we were able to put back money. Working for someone else had been keeping me from having enough time to do the things that the Lord was calling me to do. So, after Fredia and I discussed this and prayed over it, we decided to purchase enough equipment to start our own computer repair business. I have been self-employed since 2000, and praise God we are debt free.
Being self-employed means I can set my own hours. This situation has enabled me to become happily involved in a lot of ministries:  I am now an ordained minister as well as the director of evangelism for my Southern Baptist association.  We started a ministry in the local jail; I worked with Prison Fellowship as a volunteer director for their project, "Operation Starting Line"; I was involved with "Good News Jail and Prison Ministry," as a local board member for the chaplain at the jail; and have been a featured speaker for several ministries in hundreds of prisons around the country.
The Lord is faithful. He has kept His Word and He is working in me to do His will.  I will never forget the feeling of utter desperation and loneliness that I had tried to fill with the things of the world. Reflecting on my past, and knowing others are just as lost without Christ in their lives, compels me to keep sharing what He has done, and is still doing, in my life.
God provides for those He calls. This is the greatest lesson He has taught me since my salvation while incarcerated, so many years ago. There are many ways that He provides, but the most interesting method so far has been through people. When the economy slowed down even more in 2009, the Lord led me to a group of men and women who helped start Fly Right, Inc. This corporation was formed as a 501(C) 3 to do prison ministry and school assemblies.  God gave us great favor and sent us great minds to work on this.
Our name actually came from the old saying, "You better straighten up and fly right or you're going to end up in prison!"  Well, that coupled with the fact that God gave me the ability to fly radio control aircraft to attract a crowd and there you have it, the name for the ministry, Fly Right, Inc.
He is continuing the work He began and is in the process of perfecting it.  Since our inception in 2009, we have been in six states including a Federal Correctional Institution.  We were also able to speak in more than forty schools in three states.
At two schools we were blessed to be a part of three suicide interventions; it was definitely God's perfect timing.  You see, we have the students fill out cards with their names and ask them if they need help with any serious situations.  These three young ladies told us they were considering taking their lives and we were able to intervene with the proper authorities.
Our board has prayerfully set many goals for the next few years, including Front-line evangelism in jails and prisons, holding assemblies in schools to give out information for students to make good decisions, establishing discipleship groups to follow up in the jails and prisons, mentoring to those that need and ask for help inside the institutions, establishing a re-entry program for ex-cons, and finally, to take those reformed ex-cons back into the prisons, jails, and schools to share their testimonies!
We "have not, because we ask not." God has given us a great vision and we are working each day to accomplish this by showing up, ready and willing to do what He has for us to do. The people God has connected me to have been a seemingly never-ending source of blessings.  We help each other to do more for Him and for the Kingdom. God really is the great Provider!
'I needed clothes and you clothed me, I was sick and you looked after me, I was in prison and you came to visit me.'